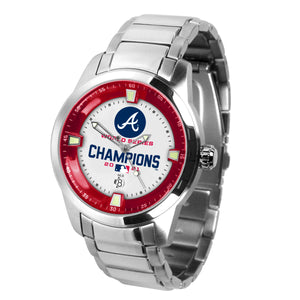 Atlanta Braves 2021 World Series Men's Titan Watch
SKU:
Celebrate and commemorate the 2021 World Series Champions with this timepiece!
Looking for a large men's watch to show your Braves pride? The Game Time Atlanta Braves Titan Watch is your answer. This watch has a large oversized case and a team-colored bezel. The Braves logo and team script proudly stand out on the white dial. This large watch is sure to grab attention everywhere you go and make opposing fans jealous. It makes an awesome gift for all occasions and holidays year-round. Order your Braves Titan Watch today!

Oversized Stainless Steel Case
Domed glass crystal
Quartz-accute Japanese movement
Date window
Color Co-oriented Inner Bezel Compliments this Masculine Timepiece
Officially licensed by MLB
Official Braves Logo
Limited 1-year warranty
Additional Info: 

Gender: Men
Band: Steel: Steel Links
Band Material: Solid Stainless Steel Links
Band Color: Silver Stainless Steel
Case: Stainless Steel
Case Color: Team Color and Silver Stainless Steel
Case Size: 47.67 mm (1.88" inches)
Case Height: 14.7 mm (0.58" inches)
Dial Color: White
Stones: No
Band Length: 7.09" inches
Band Width: 0.86" inches
Watch weight: 1 lbs (16 oz)
Movement: 2115 Myota
Movement Function: 3 Hands
Gift Box Size: (L) 3.54" x (W) 3.39" x (H) 2.83" inches
Looks and durability
Looks and durabilityVery good buy indeed. I'm very happy that I bought it and very impressed with how nice it is