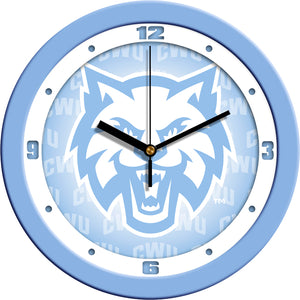 Central Washington Wall Clock - Baby Blue
SKU:
Demonstrate your passion for the Central Washington in your home or office with
the CWU Wildcats Baby Blue Wall Clock by Suntime.
This 11.5 inch Central Washington Baby Blue Wall Clock features a battery-powered (1xAA battery not included) quartz accurate movement.  Unlike plastic wall clocks, you experience superior visibility with the mineral glass crystal. The printed ring on the crystal displays the numbers with a school color-coordinated outer bezel.
The Central Washington Baby Blue Wall Clock is a great addition to any fan's room, young or old!
Clock Measures: 11.5" x 11.5"